If It's Tuesday, This Must Be Belgium

And that means tomorrow night Indigenous is playing downtown. I think they are so beautiful, and their music is incredible. Not bad for a little blues band from South Dakota.
(And incidentally, I am just waiting for the DVD to come out to purchase that movie.)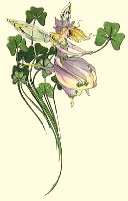 Come Out, Come Out… Wherever You Are
Your fairy is called Oak Goblinwand
She is a bringer of riches and wealth

She lives in forests of oak and lime trees

She is only seen when the seer holds a four-leafed clover
Find your magic fairy's name.
(Little did they know that I actually have a four-leafed clover.)
I'm Just a Girl

More on the female producer topic that has become of great interest to me in the last week or so… apparently I missed it, but All Things Considered did a show on just that topic: Women Music Producers: Why Female Producers are a Rare Breed. I don't know… I think it could be really interesting. I think I'm still trying to figure out what I want to be when I "grow up", so maybe we could incorporate this into 4TH PLANET.
Song for the Day:

Govinda – Kula Shaker